Day 1:  Hanoi Arrival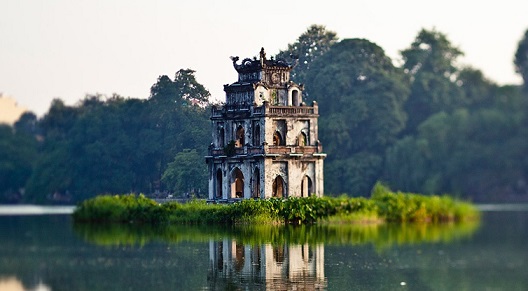 Arrive at Noi Bai airport, you will be greeted at Noi Bai Airport and transferred to your hotel for overnight stay. Hanoi is a unique city, with tree-lined boulevards, French colonial architecture, peaceful lakes and oriental temples. And this charming city will be our base to explore the northern part of Vietnam. Check in hotel and free time at your leisure after long flight. Overnight at the hotel in Hanoi.
Day 2: Hanoi City Tour – Night train to Lao Cai/Sapa (B, L)                                
Today, we enjoy a full day city tour starting with the Ho Chi Minh Complex. This famous site contains the mausoleum of the nation's founder Ho Chi Minh (Close on Monday, Friday & November), Ba Dinh Square, the Presidential Palace and the Ho Chi Minh's house on stilts. Close to this complex is the One Pillar Pagoda, whose origins date back to the foundation of city. Then we walk to West Lake and have a visit to Quan Thanh & Tran Quoc Pagoda nearby. We follow this with the Temple of Literature, which is well known as the first university of Vietnam. On the way we will stop to visit Flag tower of Hanoi. In the middle of the afternoon, we walk to visit the colonial St. Joseph Cathedral, and then move to Hoan Kiem Lake which contains an islet with a tiny Tortoise Pagoda, Ngoc Son Temple and The Huc red bridge.
The evening takes us to the old theatre for a 1-hour water puppet show, a unique Vietnam traditional art. In the evening, we transfer to railway station to board a soft sleep & AC train to Lao Cai/Sapa (21:00).
Train departs from Hanoi around 21.40 and arrives in Sapa around 5.40 next morning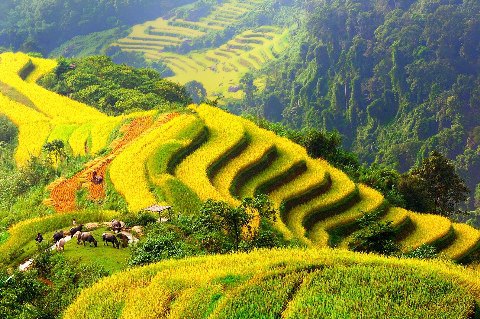 Day 3: Lao Cai – Sapa – Silver Warterfall – Tram Ton – Sin Chai – Cat Cat – Sapa (B,L) 
At approximately 06:00 we arrive in Lao Cai. Our driver and tour guide will pick up you at the station and we drive to Sapa. After breakfast at local restaurant , we transfer you by car to Silver Waterfall where you will be able to take a short walk to the waterfall. You will then drive further to Heaven Gate of Tram Ton, the highest peak of roads in Vietnam. From there you can see Fansipan, the highest peak of Indochina mountains as well as enjoy stunning views. We start descending nearby the waterfall. The trail takes you all the way through bamboo forest and before you arrive in Sin Chai village of Black H'Mong minority. Here you stop for lunch. After lunch, we head toward Cat Cat village of Black H'mong on foot, passing through rice terraces and indigo field, where you could see how local women weave hemp and dye fabric of indigo. The car arrives to transfer you back to your hotel in Sapa.
Day 4:  Sapa- Y Linh Ho – Lao Chai – Ta Van –Ta Phin – Night train to Hanoi (B, L) 
Today you take a trail sneaking through mountain. You also will enjoy spectacular scenery while walking along a narrow river you eventually arrive in Y Linh Ho village of Black Hmong minority, where you can take a rest in a nice spot nearby the beautiful river. After lunch, you head toward Muong Hoa valley. You will pass through Lao Chai village of Black Hmong minority and then Ta Van village of Giay minority by following a very popular trekking route. After lunch, we get on coach and continue moving to Ta Phin Village where you will take a short trek to get to the village of Red Dao and Black Hmong minorities, two largest ethnic groups in Sapa area. After that, you will transfer to Lao Cai where you have dinner, free at your leisure until time to take an overnight train back to Hanoi.
Day 5:  Hanoi – Halong  – Hanoi (B, L)                                                           
Pick up at Hanoi Railway Station in early morning transfer to Nam Ngu Hotel for breakfast (room is available is around 3 hours). Then we depart for Ha Long Bay.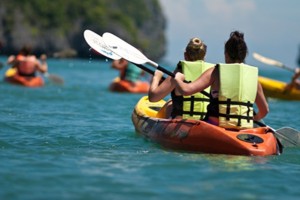 Day 6:  Halong – Hanoi – Hue (B, L)                                                            
Continue to enjoy activity of cruise
After we leave the cruise, pick up at pier then we depart to Bac Ninh province to visit Do temple which was building during the Le Dynasty and has been altered several times since. The major reconstruction took place under the reign of Le Trung Hung in the 17th century. Enjoy traditional music show "Quan Ho" or called Quan Ho folk song. Lunch at Dinh Bang Temple. Then, we depart directly to the airport for flight to Hue. Arrival at the airport then transfer to hotel for check in and free at your leisure. Accommodation in Hue.
Day 7: Hue – city tour  (B, L)                                                                                            
Hue, originally called Phu Xuan, was built in 1687, and became the cultural, religious and economic capital of the Nguyen Dynasty from 1744 to 1945. The actual name of the city was a corruption of the name Than Hoa, where Hoa signified "peace" or "harmony" in Vietnamese. Sadly, the city really did not know much peace until the present day.  Although the Nguyen kings founded the city, Hue was occupied by the Tay Son rebels from 1786-1802.  In 1802, Emperor Gia Long was crowned in the city and renamed it "Hue".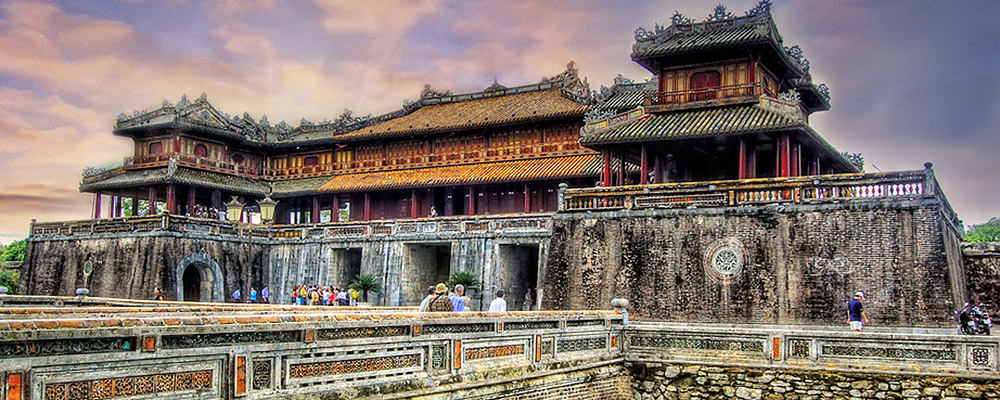 Between 1802 and 1820, there were more than 100 peasant uprisings in the city. In 1833, the French attacked Hue so ferociously that the Emperor Hiep Hoa allowed the city to become a French protectorate.  Later, in 1885, the French reasserted their sovereignty in the city, burning the Royal Library and carrying off many objects of value and gold and silver decorations. In the 20th century, the city was devastated once again during the Tet Offensive. The communists occupied the city for 25 bloody days and hid among the various palaces and buildings of the Citadel.  In an effort to dislodge the Communist troops, the Americans and South Vietnamese furiously bombed the palace, destroying most of the structures. Today, with the help of UNESCO and other organizations, the Vietnamese are beginning to reconstruct and restore some of the palace buildings.
Our tour begins at Hue's Ancient Citadel and Imperial City. Created in the 19th century and modeled on the Forbidden City in Beijing. Visit Khai Dinh and Minh Mang Temples . Then we continue by cruising on the Perfume River to visit Thien Mu Pagoda. The remainder of your time is exploring the crowded Dong Ba market where you may be interested in bargaining for some priceless souvenirs.
Day 8:  Hue – Da Nang – Hoi An  (B)                                                                             
This morning we visit the best Cham museum in Vietnam and take a short break at Marble Mountain before crossing the spectacular Hai Van Pass reach to Hoi An.
Arrival hoi an check in hotel and free at your leisure.
Day 9: Hoi An City Tour  (B, L)                                                                            
Today we enjoy a day orientation tour of Hoian including the Chinese Assembly Halls, the Japanese Covered Bridge, Phuc Kien Pagoda and Tan Ky House, The old Chamber of Commerce. The remaining day would be spent at your explorer to discover this town. Overnight at the hotel in Hoian.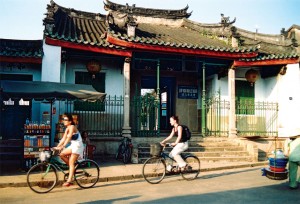 Day 10:  Hoi An Suburban (B)                                                                          
Experiencing a unique adventure in Hoi An, joining the Wet Rice Farmer Tour. Learn hands on about the whole process of how rice reaches its finished product. Start the day by riding a water buffalo and then take part in plough, raking, sowing, planting, grinding and separating the rice and making rice flour. At the end of the tour you will have the opportunity to cook and eat beautiful crispy pancakes which will be served with a cool drink. This whole experience is held on a family farm and will be something you will never forget.
Day 11: Hoi an – Da Nang  – Saigon City Tour (B, L)  
You are transferred directly to the airport for flight to Saigon. Pick up then transfer to hotel for check in (
Today we will have we take a full day of city tour to visit all famous sites of this bustling city. The first destination is the Reunification Palace, which was the former residence of the President of South Vietnam until end of April 1975, followed by some French colonial structures including the Notre Dame Cathedral. Next, it is on to the Old Saigon Post Office, continue is War Museum. The next excursion in China town and Binh Tay market and finally is Ben Thanh Market. Overnight in hotel at Sai Gon.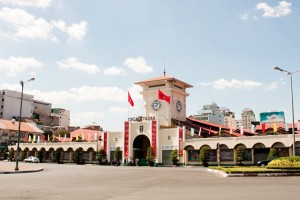 Day 12: Saigon – Cu Chi  (B,L)                                                                    
Today we transfer to Cu Chi Tunnels which were an incredible underground network constructed by Vietnamese fighters during the long struggle for independence. The tunnels contained hospitals, plus accommodation and schools, and were used as a military base for the Vietcong in the American war.  Back to Ho Chi Minh and over night at hotel in Saigon.
Day 13: Saigon –  Vinh Long  (B, L)                                                           
This morning we will depart to VinhLong, the program will start with the visit of Cai Be colorful floating market cruising among local barges full of fruits and vegetables. Then, an optional stop can be made at local workshops where you can see how to make rice paper, coconut candy and pop-rice, pop-corn…
The rowing boat will take you deeper into the countryside on smaller canals and to enjoy the peaceful time. Walk 15 minutes to Ut Trinh home, on the way you can have a change to see "Monkey" Bridge. It is so interesting to see traditional houses made of wood and palm tree leaves and see some activities of the local farmers with an opportunity to make contacts with them and see how they catch fish…
Lunch can be served at Ut Trinh home. After lunch, we can walk around and then we will enjoy some kinds of fruits when listening to the traditional music.
One more thing to do in this trip is biking ! It will be so amazing to bike on village paths to see the local farms, houses, real life and the ancestral ways to pick up fruits in Mekong Delta. Get back to Saigon and free time at your leisure.
Day 14: Saigon –  Departure  (B)                                                                                    
Free at your leisure until transferred to the airport for your flight back home.